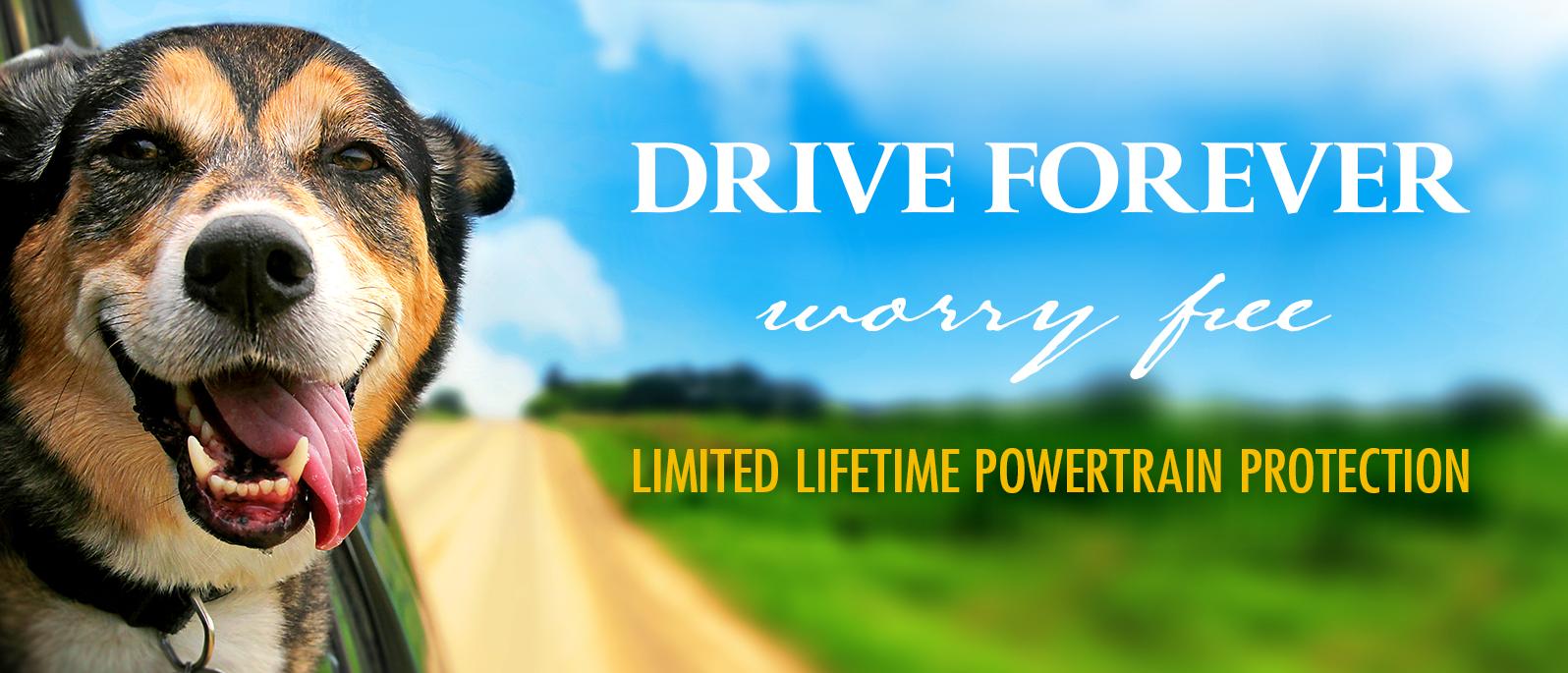 POWERTRAIN LIFETIME LIMITED WARRANTY IN NORTH CHARLESTON
Want engine and transmission protection for the life of your vehicle? Crews Chevrolet's Drive Forever is a limited lifetime powertrain protection program, and it's available on all eligible used vehicles with fewer than 100,000 miles. Drive Forever covers all internally lubricated parts within engine and transmission - except for seals and gaskets - on each of our eligible thoroughly inspected pre-owned vehicles. The best part is this coverage lasts forever as long as you own the vehicle. Additional protection is available and designed to "wrap around" this exclusive coverage. Experience true peace of mind on the road today with Crews Chevrolet's Drive Forever.
Provides Mechanical Breakdown Protection to the Following Assemblies
A. Engine - Cylinder block, cylinder head(s) and all internally lubricated parts contained within the engine including: pistons, piston rings, connecting rod and connecting rod bearings, crankshaft, crankshaft main bearings, carnshaft, carnshaft bearings, cam followers, timing chain or belt, timing gears, guides, timing chain or timing belt tensioners, rocker arms, rocker shafts, rocker bushings, intake and exhaust valves, cylinder head valves, valve guides, valve lifters, valve springs, valve seals, valve retainers, valve seats, push rods, water pump, oil pump and oil pump housing, oil dipstick and tube, harmonic balancer, oil pan, timing chain cover, intake and exhaust manifold, valve covers, engine mounts, cam gear bolts, harmonic balancer bolt, seals and gaskets.
Diesel Engine Coverage - All of the above engine parts plus: glow plugs, glow plug control module, vacuum pump, water separator, shut off valve, oil vapor separator.
Hybrid Engine Coverage - All of the above engine parts plus: electric motor, generator, power split device.
B. Turbocharger/supercharger - (Factory Installed Only) Turbocharger/supercharger housing and all internal parts; seals and gaskets.
C. Transmission - (Automatic or Standard) Transmission case an all internal parts plus: torque converter, flywheel/flex plate, vacuum modulator, electronic shift control unit and solenoids, transmission cooler, transmission cooler lines, transmission dipstick and tube, transmission mounts, oil pan, internal nuts/bolts and fasteners, slave cylinder, clutch master cylinder, seals and gaskets.
D. Transfer Case - Transfer case and all internal parts, internal nuts/bolts and fasteners, seals and gaskets.
E. Drive Axle - (Front and Rear) Drive axle case, all internal parts contained within the drive axle, internal nuts/bolts and fasteners, locking hubs, drive shafts, center support bearings, universal joints, constant velocity joints, axle bearings, four-wheel drive actuator, differential cover, seals and gaskets including CV Boots.
Filters, lubricants, coolants, and fluids may be covered if replacement is required in connection with a covered breakdown.